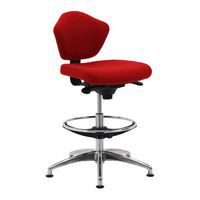 Draughtsman Chairs
Display

Hide

all the categories
Draughtsman Chairs
About this category
Close category information
Draughtsman Chairs
Draughtsman chairs are taller than your standard office chair, swivel 360 degrees and have a foot ring to support your feet. They can be used as cashiers chairs and are popular in warehouses, workshops, labs and schools.
Our range offers the option of chairs on castors or with glides. You also have a choice of material depending on the environment you're working in.
Our polyurethane chair is great for workshops, it is hard wearing and has a backrest for additional support.
The upholstered draughtsman chairs can be used in any environment and are popular in warehouses and schools. They have the added benefit of a padded seat and backrest.
The vinyl chairs are heavy duty and ideal for industrial areas - they can easily be wiped clean if required.
All draughtsman chairs are height adjustable and some offer additional ergonomic features – just check the product descriptions for more information.
If you can't find what you're looking for view our wider range of chairs or contact or team who can source an alternative.
Product List
{ searchResult: { pageSize: 28, searchTerms: '', totalPageNumber: 1.0, totalResultCount: 9, currentPageNumber:1, attributes: "" } }