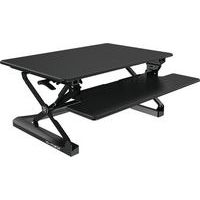 Yo-Yo Desk Converter
Display

Hide

all the categories
What are the benefits of a Yo-Yo standing desk converter?
A desk converter, also referred to as a standing desk riser, can instantly convert any desk, table or work surface into a sit-stand desk.
As the UK's leading standing desk brand, Yo-Yo desk converters enable the user to alternate between sitting and standing at their workspace with ease while allowing sufficient room for a keyboard and mouse, computer monitor, laptop and any other necessary materials. With minimal installation required, desk converters are a great low-cost option for creating a healthy, productive and motivational working environment.
How to convert your desk to a standing desk
Before purchasing your Yo-Yo standing desk converter, check the measurements to ensure it will fit securely on your existing work surface and make sure the converter you choose can accommodate the number of screens or equipment you require. Once you have received your converter, simply attach the keyboard tray with the screwdriver and screws provided with the converter, and you are good to go. A second person may be required to lift your desk riser into place.
FAQs
How do standing desk converters improve productivity?
Research has shown that sitting at a desk for extended periods of time can have a detrimental effect on both our physical and mental health. Poor posture leads to aches and pains in the back, while other risks include muscular degeneration; lethargy and depression. With a Yo-Yo stand up desk converter, you can change your working positions frequently by alternating between sitting and standing throughout the day This helps prevent backache, boosts energy and improves your overall wellbeing, resulting in improved productivity and motivation.
What is the maximum height adjustment for a desk converter?
All Yo-Yo desk converters come with adjustable heights so they can be set to the height best suited to the user. You can use the max adjustable height toggle on this page to filter height preference accordingly.
What is the best standing desk converter for me?
Yo-Yo standing desk converters come in different sizes with varying weight capacity so it is important to check measurements and max weight capacity before making a purchase. Desk converters can accommodate one screen or two screens, depending on the model. If you require a desk riser that can easily accommodate two screens, we would recommend either the Yo-Yo Desk Go 2 or the Yo-Yo Desk 90 range.
What other products should I consider when purchasing a Yo-Yo stand up desk converter?
It is important to take seating into consideration when purchasing a desk riser. We would recommend the Ergonomic Stool and Anti Fatigue Mat Combo which enables optimal posture in perfect spine position while the built-in anti-fatigue mat encourages movement. For maximising movement and energy while working, why not try the award-winning Yo-Yo desk bike to get the blood pumping and keep lethargy and poor posture at bay.
Why choose Manutan for your sit stand desk converter?
Here at Manutan, we are passionate about delivering the highest level of customer service, which is why our customers have rated us 4.5 out of 5. All products include a 12 month warranty as standard, free delivery and are covered by our 30 day guarantee meaning that if you are not entirely satisfied with your Yo-Yo standing desk converter, you can simply return it to us free of charge for a full refund. If you have a question about any of our products, contact our friendly sales team who will be happy to help.