Working here at Mautan UK
If you're looking for a fun and energetic company surrounded by a team of enthusiastic and talented people then Key is definitely the place for you!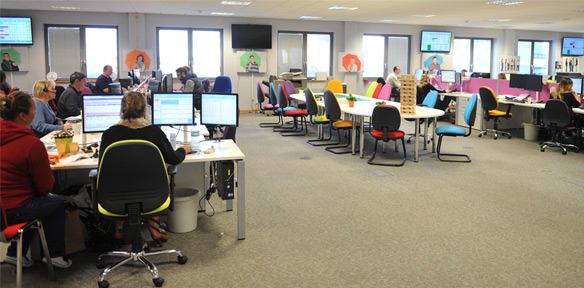 Our offices
We know what Mondays can be like - so we pride ourselves on our bright, colourful offices enough to perk you up on the rainiest of days.
We've plastered our walls with pictures of our willing members of staff - who are all too eager to take part in our playful photo shoots with our in house photographer.
Our breakout area
Our kitchen is the heart of our company. Want to make yourself a fresh lunch daily? No problem. We're well-equipped with 2 ovens, hob, toaster and our giant American style fridge. Relax on our comfy sofas, watch TV or even play some pool or table tennis! We're also passionate about our sports – We have offer free Hiit classes and our own bikes for you to use during lunch or after work.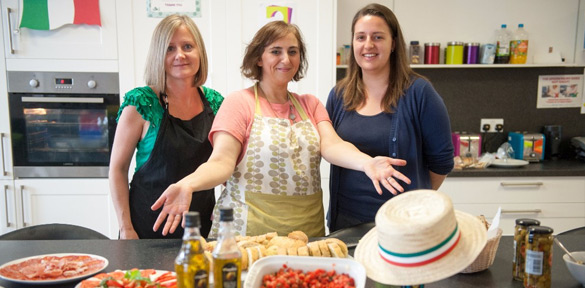 Lunch, fruit, tea and mid-month pick me ups
We love our food at Manutan UK. Any excuse to celebrate with food - we will. Once a month we host a company lunch. In the past we have had Italian banquets, BBQ's and a whole day dedicated to cheese! That said - we're also keen to help our staff choose a healthy lifestyle so we always make sure there is plenty of free fruit in the kitchen. Plus tea, coffee and squash - just help yourself.
The middle of the month can always be a slog - with this in mind we offer a 'mid-month pick me up' – a little surprise from us to you, just to help put a smile on your face.
Employee forums and suggestion boxes
At Manutan UK, we want everyone to have their say. We're always open to hearing new ideas to help improve our company. To make sure that everyone is given the opportunity to be heard, we've a suggestion box. Simply pop your idea in the box and once a month our employee forum meets and reviews each and every idea put forward.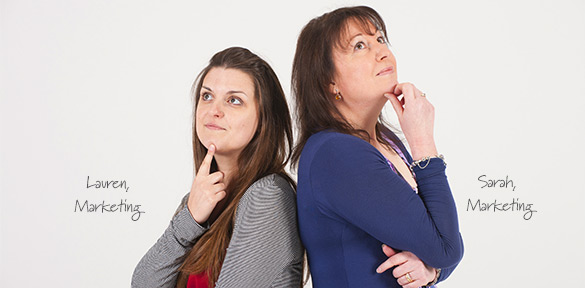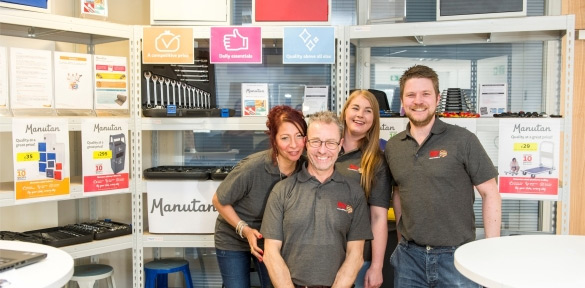 Training and development
Earn as your learn with our in-house training. Not wanting any skill to go unnoticed, every month we try and hold a different workshop where you can learn a new skill. Are you a talented artist? A skilled musician? Come and share your skills and maybe learn a few yourself.
Employee of the month
Become a #legend with our employee of the month initiative. Working hard can be tough, so why not reward those going the extra mile? Every month we recognise an individual in the company who has gone above and beyond for our #legend award.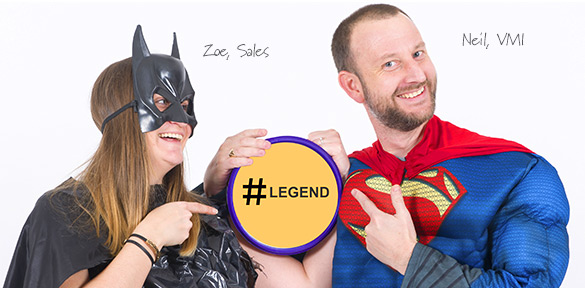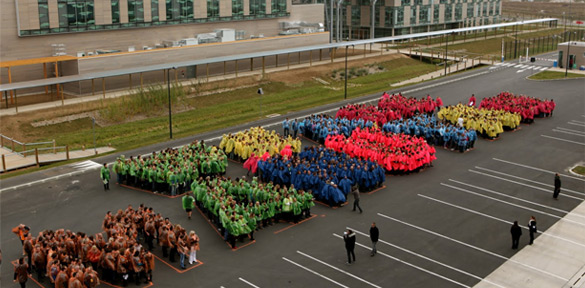 Be part of a big European Group
Being part of a big family is something we treasure. We are part of the Manutan family with 24 other brother and sister companies across Europe. As a family, we share news and ideas. We even share recipes!

Click here to see our current vacancies across the group.
Our Mission statement
Manutan brings together a group of women and men driven by the same passion for their business. We do our job as a distributor by putting sincerity and responsibility at the heart of all our actions and we strive to enable everyone to progress, thereby enterprising for a better World. Our mission is based on four pillars:
A unique and tailor-made relationship and service approach to our customers, namely businesses and local authorities
The power of a European distributor combining reliable processes that are constantly improving with agile and innovative technology
A rich and extensive range of dynamic, high-quality products and services designed to help businesses and local authorities operate more efficiently
The commitment of a team of women and men constantly focused on moving forward
Click here to find out more about the Manutan Group