Heavy Duty Shelving
Shelving designed to cope with heavy loads, can support up to 400kg per shelf, plus all with boltless quick assembly. If you need help selecting the right product we have a friendly team of product experts to help you – call us on 0800 652 6000 or email us at sales@key.co.uk




Rapid 1 heavy duty shelving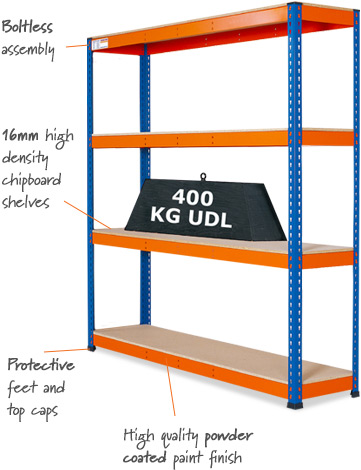 Our most popular boltless shelving system, heavy duty enough for the warehouse or workshop and easy enough to transport and assemble for more general use in stock rooms or picking lines.
Quick, easy boltless assembly - frames and beams simply clip together and only require a rubber mallet (included)
Manufactured using 2mm European structural quality steel
16mm high density adjustable chipboard shelves -
max shelf capacity of 400kg UDL*
Hard-wearing powder coated finish
Bays can be joined together with optional tie plates for extra stability
Protective feet and top caps included
Available for free next day delivery
*UDL stands for Uniformly Distributed Load. A UDL rating of 400kg means the system can hold 400kg per shelf where the weight is uniformly spread.
Top tips for buying shelving
Where will it be used? Does it need to be hard wearing, hygienic, heavy duty? If this heavy duty shelving doesn't fit your needs we have a simple shelving and racking selector tool to help choose the right shelving - click here
Will it take the weight? Check that the shelf capacity is high enough for the goods you are storing
How will you stack the shelves? If you plan to stack the shelves with pallets using a forklift you might need a different system than if you plan to stack them manually
Customer Feedback
Rapid 1 Shelving

"sturdy and easily assembled, brilliant"

Rapid 1 Shelving

"Just what we needed, perfect."

Rapid 1 Shelving

"The shelving was every bit as good and sturdy as I had hoped for,well done Key."