Steel Lockers
Our quality steel lockers provide a complete storage solution. If you need help selecting the right product we have a friendly team of product experts to help you – call us on 0800 652 6000 or email us at sales@key.co.uk




Secure, robust lockers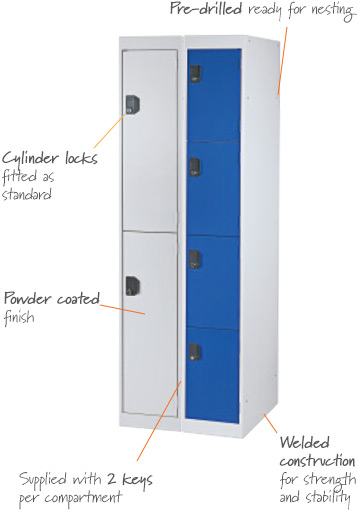 Lockers are an integral part of schools, sports centres and staff changing rooms. They are also suitable for other environments where staff, customers and visitors alike can leave their valuables, safe in the knowledge that they are securely locked away.
Supplied with 2 keys per unit
Designed for nesting side by side and/or back to back
All cabinets feature an 80mm deep sump tray to contain spillages
Strong welded steel construction
Incorporates air circulation vents
Available in a variety of colours
Available for next day delivery
When deciding on what locker solution is right for you it is important to ask what you are going to store in the lockers and what space you have. Thinking ahead about whether you will require more lockers in the future is also advised as some locker systems can be easily added to.
Storage requirements
Do you need a place to hang clothing or do you just need to store small personal items?

Key have larger lockers for clothing, such as 1 tier & 2 tier along with smaller lockers for personal items like the 4 Tier & 6 Tier lockers.

All of these variations can be joined together to give the perfect solution for your needs.
Available space
How much floor space do you have available in the room you are putting the lockers? Remember you need to have enough room for the lockers themselves, for the doors to open fully, and enough space for people to get to use them. Also ask yourself how many people are going to be using the space at the same time.
Adding lockers in the future
Rather than buying more lockers than you need the sensible approach is to buy what you are going to use and then add to them as you need them. The flexibility of the commercial lockers system is that it can be easily added to and you are able to "Mix & Match" as needed. The lockers are designed so new ones can be added alongside or back to back to maximise the space available.
Accessories available
To get the most from your locker solution there are some additional options to consider.
Seating
Not only does the addition of a bench seat make for a more pleasant experience when someone gets changed, it offers the added benefit of rising the locker off the ground making cleaning easier.
Sloping tops
To prevent people storing items on top of the lockers you can add a sloping top, this is something that is especially beneficial in areas where hygiene is particularly important, or where members of the public are likely to leave items that may then become lost property.

Using the options available you can build the ideal solution for your locker needs, if you need to speak to an expert contact the customer service team at sales@key.co.uk
Customer Feedback
Single Tier Commercial Locker

"Well made and delivered in perfect condition"

2 Tier Commercial Locker

"Well packed for transportation, good quality product."

4 Tier Commercial Locker

"Lockers are excellent , arrived in good condition and well packed."