FREE GIFTS

WHEN YOU
SPEND OVER £50
Spend over
£50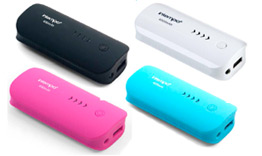 intempo USB phone charger
Thanks to this compact little Smartphone Charger you'll never run out of battery – even when you're on the go!

• Small and lightweight enough to carry in your pocket / handbag
• USB Connectivity
• Compatible with all smart phones
• Rechargeable battery
• Charging time: 3-5 hours
QUOTE: GIFT50
How to redeem your gift
Simply enter one of the above codes in the promo field on our basket page. To do this, go to the basket page and click on the link 'Add a promo code' where you will then be able to enter one of the above codes. Click on 'Apply' and you should see the free gift added to your basket. Please note: the value of your basket (excluding VAT) must exceed the limit required to redeem your gift.
Terms and Conditions
Promotional items and vouchers cannot be used in conjunction with any other offer, promotion or pricing agreement. Promotional items are subject to availability and we reserve the right to substitute for an alternative product. Only 1 promotional item can be claimed per order. Any promotional item provided as a result of placing a sales order with Key Industrial Equipment Limited is provided directly to the ordering company. If the promotional product is then given to an employee by the company, the company will be liable for any Income Tax, National Insurance contributions and any other taxes and deductions payable in respect of the value of the promotional product or for any sums as may be required by law.