Product List
SKU : MIG5651615
18-V, 5.0-Ah Red Lithium batteries - Milwaukee
18-V, 5.0-Ah Red Lithium batteries - Milwaukee
18-V, 5.0-Ah Red Lithium batteries 2.5 x greater battery life.
Battery life light gauge via readable indicator lights.
Hermetically sealed buttons to prevent water and dust from entering.
Electronics protected from water and dust.
Impact-proof structure with a rubber overmould, making it drop-proof from a height of several metres.
This product is currently not available.
?Quantity? item(s) are available
This product is only available whilst stocks last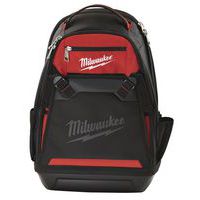 SKU : MIG5651619
Durable construction tool backpack made from 1680-denier nylon canvas that is resistant to wear and tear.
Hard base keeps the bag upright and provides maximum all-weather protection.
Front flap pocket and plenty of storage with a total of 35 pockets.
Breathable, reinforced straps for maximum comfort and durability for jobsites.
Vertical tool holder maximises storage space.
This product is currently not available.
?Quantity? item(s) are available
This product is only available whilst stocks last
{ searchResult: { pageSize: 28, searchTerms: '', totalPageNumber: 1.0, totalResultCount: 2, currentPageNumber:1, attributes: "" } }