Product List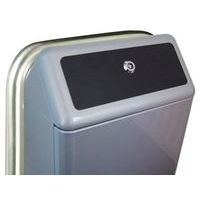 SKU : MIG366591
Protective cover to prevent the disposal of unwanted waste.
Vigipirate lock for Capitole dustbin.
Open with triangular key.
This product is currently not available.
SKU : MIG368673
Robust and practical.
Extremely resistant bin made of fireproof metal.
Wide opening encourages people to throw their rubbish away and keep streets clean.
Removable inner container for easier emptying.
Door with latch.
Can be attached to the wall or to a post.
{ searchResult: { pageSize: 28, searchTerms: '', totalPageNumber: 1.0, totalResultCount: 2, currentPageNumber:1, attributes: "" } }