The most innovative office designs from around the world
With flexible working and new technology impacting the workplace, office design and furniture are evolving to keep up. We take a look at some of the world's most innovative office spaces from around the world and how their office design helps to harness creativity and collaboration.
The Superdesk at Barbarian Group, New York City
Whilst many office areas are removing allocated desk spaces altogether, Barbarian have reversed the trend by opting for an undulating 1100 foot 'super desk'. Spanning the length of four football pitches, this shared worktop can accommodate up to 170 workspaces, meaning the interactive marketing companies' entire staff can operate on one surface.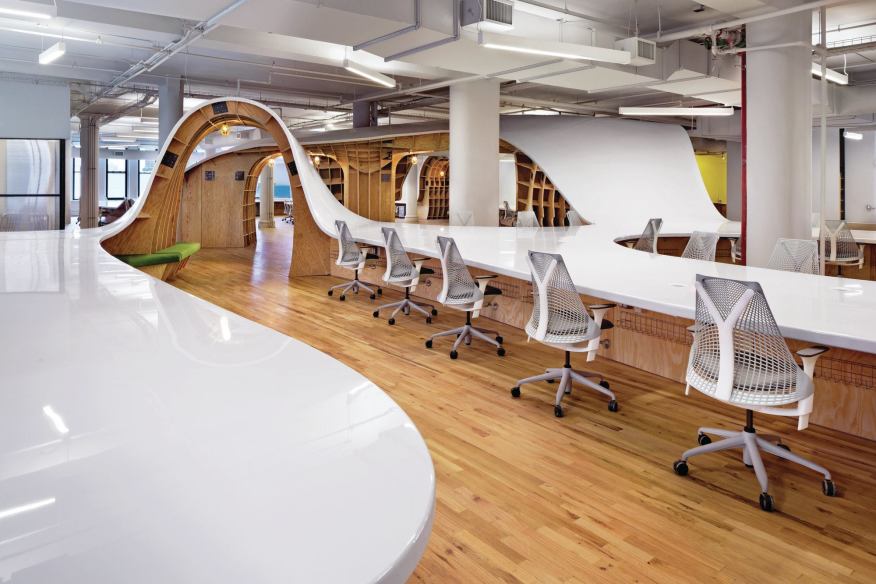 The desk snakes around the entire 20,000 sq. foot office space and each 'grotto' created by the curving path was deliberately designed to create quiet meeting spaces and breakout areas.
Designed by architects Clive Wilkinson, the open, unobstructed office design aims to encourage collaborative working and open-sharing, with the extreme hot-desking environment ensuring employees maximise communication – this is not an environment for individual working.
Airbnb Campus, Dublin
Teaming up with the heneghan peng architects team, Airbnb has created a working neighbourhood designed to cultivate a collaborative environment and create a sense of community in the workplace.
Within the shell of a warehouse which had fallen into disrepair, the campus boasts a vast range of meeting spaces (or 'neighbourhoods') of all shapes and sizes – you won't find an individual desk anywhere on the site. Employee visibility is at the forefront of the design, with partitioning kept to a minimum. Each area boasts a different design theme, so employees are able to work in completely contrasting environments from day-to-day.
The central area is a dramatic cascading staircase which operates equally as a working area, conference space, breakout area and of course as a means of reaching the first floor.
CJ Blossom Park, South Korea
Coining the strapline, 'creating a culture of integrated innovation', the R & D headquarters for CJ Corporation displays remarkable modern architecture to bring together CJ's previously separate divisions – pharmaceutical, biotechnology and food development.
The 1.2 million square-foot campus has three elliptical towers, one for each division, and is brought together by a futuristic central atrium. Over 100,000 square-foot of amenities include restaurants, cafés, libraries and a gym facility. Each sky-scraping tower is connected not only on ground level but throughout these communal mezzanine floors, minimising the divisions between each department.
Within the research and laboratory facilities, the emphasis on dynamic working continues. Rather than the traditional fixed workbench environment, the majority of office elements are flexible – meaning spaces can be arranged and rearranged time after time as different project become the forefront of the focus.
Inventionland, Pittsburgh
With over 2,000 items invented on site every year, Inventionland is certainly a hub for creativity. Architecture and design are a big part of that, with the 70,000 sq. ft facility resembling a theme park more so than an office space.
16 different working environments, or 'sets', resemble pirate ships, race tracks and a castle to name a few. These house the 'creationeers' who work within these environments and the state-of-the-art audio, visual and animation technology.
Philips Lighting, Eindhoven
A canopy of 'leaves' create a remarkable interactive tree at the centre of this Dutch office area. Given Philips expertise in the lighting industry, it's no surprise that lighting was at the centre of this design. Intelligent lights in the parametric tree generate various scenarios around the building, creating different environments using lighting.
The atrium brings employees together in congregation spaces including meeting rooms and coffee bars for activities such as exhibitions and conferences. Every one of the 1,500 pyramidal panels is meticulously positioned to light a particular area of the atrium in the desired way. The reflection and emission of light aims to create an ecosystem feeling within the office environment, as the entire campus moves from light to dark together throughout the day.