The Best COSHH Cabinets for Hazardous Materials
If you use hazardous materials at work, it's essential that you've got the right cabinet in which to keep them safely stored away.
It would be silly to keep flammable materials jumbled together in a messy drawer. Similarly, storing chemicals in a cupboard that might leak is asking for trouble. What you need is something built for purpose, which can withstand whatever you're storing while making organisation easy.
Luckily, you'll find just the thing in our range of COSHH compliant cabinets. With products of all sizes, we're sure you'll discover something for your business. To get you started, why not check out our two top sellers?
The top cabinet for storing chemicals or dangerous substances…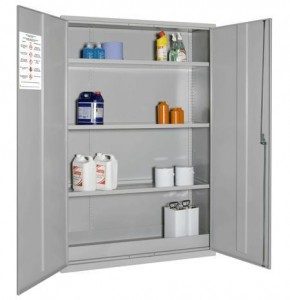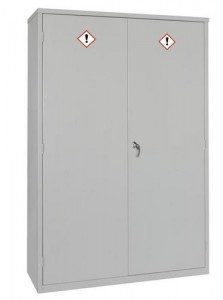 Hazardous Chemical Storage Cabinet – 1830x1220mm
The first things to notice are that it's made from metal and has reinforced doors. The material from which your cabinet is made is obviously very important and metal makes a great choice for keeping dangerous substances in and everything else out.
If you're storing items that might react if they were to mix, it's vital to keep them apart. This cabinet is big enough to store plenty of products and features three shelves to help you get safely organised. Keep heavy or corrosive products at the bottom and limit the risk of unexpected reactions.
Right at the bottom of the cabinet you'll find a nifty leak proof sump. We love this feature and it's an absolute must if you're worried about leakages. If your stored chemicals make a bid for freedom and ooze from their containers, they'll be trapped safely in the sump and can be easily cleared up.
The specifics:
HxWxD 1830x1220x457mm
Robust construction
Reinforced doors
3 shelves
Leak proof sump
GHS (globally harmonised system of classification of chemicals) labels included
Powder coated paint finish
Complies with HSG51, COSHH and DSEAR.
Ideal for storing chemicals, paints, solvents and dangerous substances.
2. Our customers' favourite cabinet for flammable materials…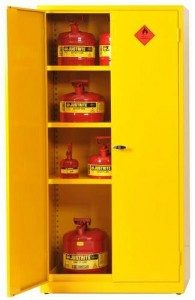 Yellow Flammable COSHH Cabinet
This flammable material cabinet securely protects its contents from sparks in the workplace. Even better, it is built to maintain its integrity during the early minutes of exposure to fire and this extra time makes a huge difference in an emergency.
There's no missing the bright yellow paintwork on this cabinet. To really highlight the dangers, should anyone need reminding that the contents must be treated with caution, it also comes with an appropriate 'Highly Flammable' warning label.
Beneath the paint, the flammable material cabinet is made from robust 0.9mm thick steel with reinforced doors. These doors are locked with a three-point locking system, keeping the contents well out of harm's way.
To help get you organised, three height-adjustable shelf trays make cabinet-admin a doddle, allowing you to separate items efficiently. These shelves are each perforated, meaning any spilled liquids drain safely into the designated, removable sump tray. This makes cleaning up accidents much easier and prevents leakages from the cabinet itself.
As a bonus safety feature, the bottom of the cabinet is completely sealed with point welding…just in case.
The specifics:
HxWxD 1815x915x459mm
Constructed from 0.9mm thick steel
Reinforced doors.
3 perforated, height adjustable shelves
80mm deep removable sump tray
Fully sealed at bottom with point welding
Protects contents from sparks and maintains its integrity during the early minutes of exposure to fire
Epoxy powder coated paint finish in high visibility yellow
Labelled to UK and European standards with 'Highly Flammable' label
Complies with HSG51, COSHH, DSEAR.
These cabinets are our top sellers and make a great choice for the storage of hazardous materials. If you're looking for something in a different size, we've got a wide range of hazardous material storage cabinets in different heights and widths, so why not browse our COSHH & hazardous storage selection to find your perfect product?
Alternatively, get in touch with our sales team who'll be happy to help you choose the right cabinet for your business. Give us a call on 0800 652 6000.